We are the original and biggest inflatable boat paint supplier. Buy from us - a trusted name you know.
Inflatable boat paint for inflatable boats, inflatable kayaks, dinghies, inflatable canoes & inflatable boat accessories. Renew your old, faded, sticky, deteriorating inflatable boat with this proven synthetic rubber coating
A picture is worth a thousand words....... below is a happy customer. Watch as their rigid-hulled inflatable boat is easily restored using Tuff-coat inflatable boat repair and restoration paint.
The inflatable boat restoration shown below is a major undertaking but we want to demonstrate how a boat destined for the dumpster can be the pride and joy of any discriminating boater. We are performing major repairs and applying Tuff-coat paint to this boat over time. Soon you will see what was once a piece of garbage become a restore inflatable boat perfectly safe and ready for boating. This is only one of many happy customers.
Hypalon Rigid-hull Inflatable Boat (RIB) Restoration Project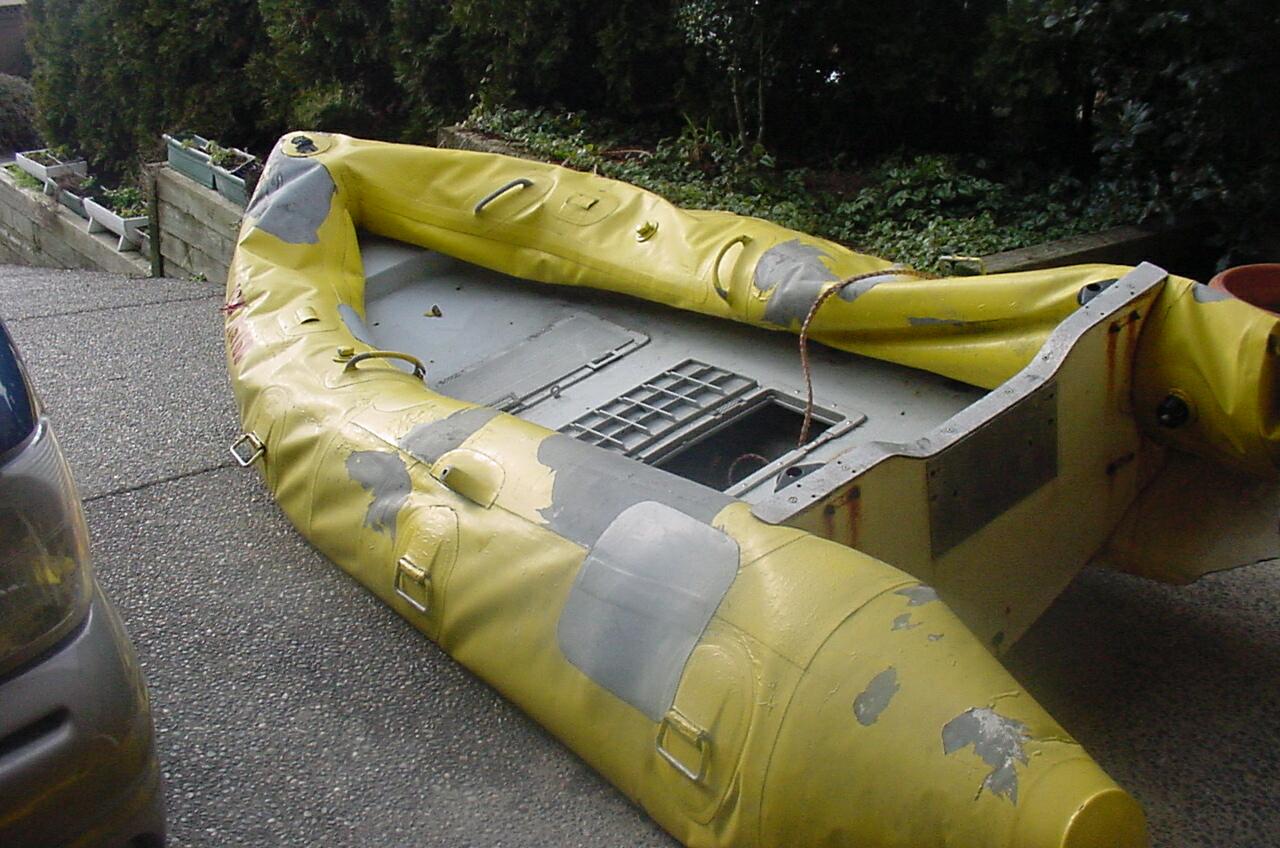 There is no problem that this boat doesn't have. It has UV damage, leaking seams, It was coated with a one part coating like GACO or Rhino hide, It has been abraded and has fabric showing through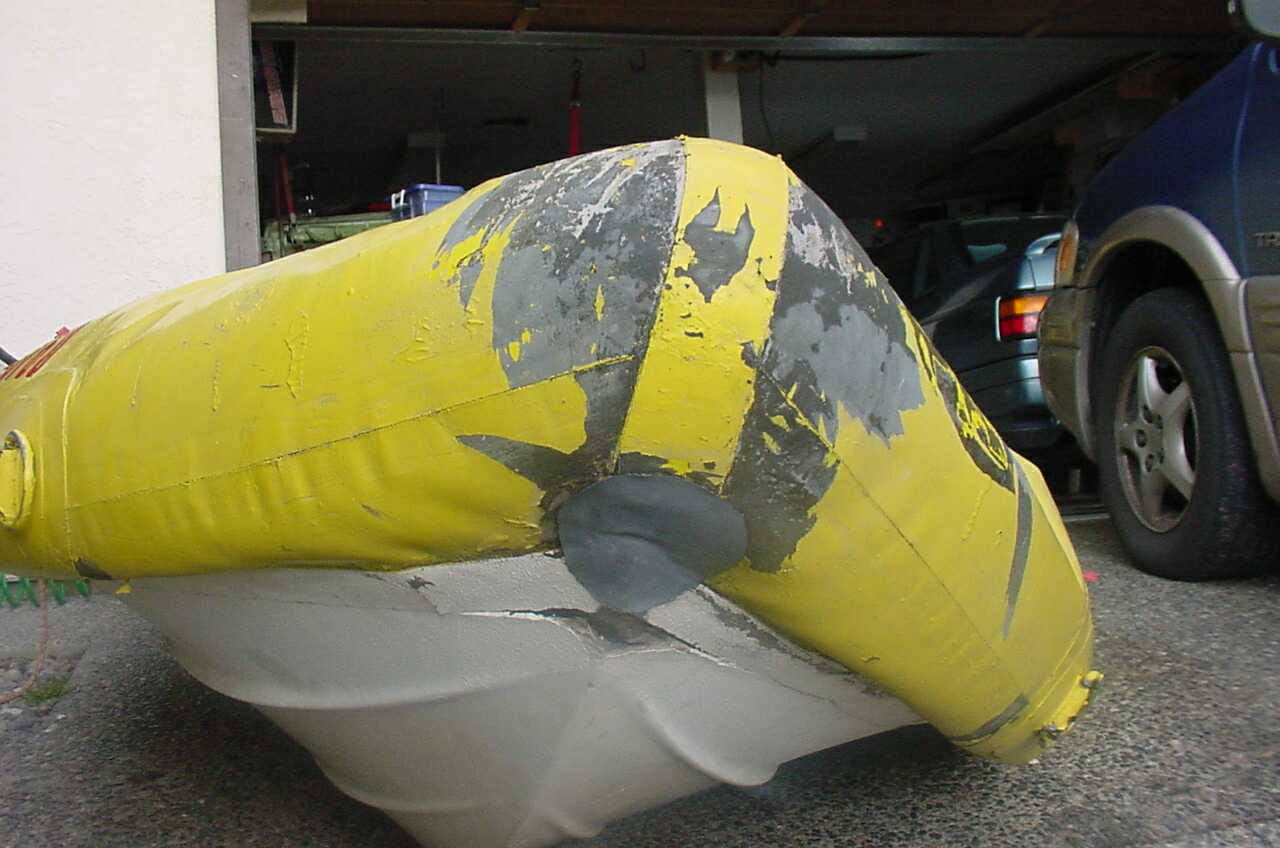 But regardless of the damage, we are confident that our inflatable boat paint and a little elbow grease will be able to make this boat into a thing of beauty.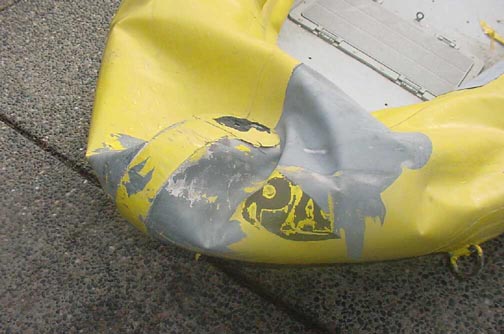 The first thing we have to do is get as much of the offending material off as possible. This includes broken handles, bad patches and of course the single part coating.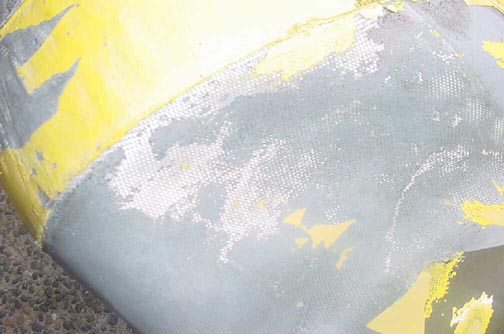 As you can see from the above picture the fabric is showing through, not just here but all over the boat. One good thing is that the old coating prevented further UV damage to the fabric.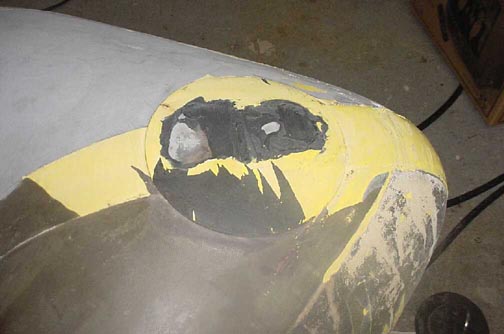 The remainder of the bow ring has got to go.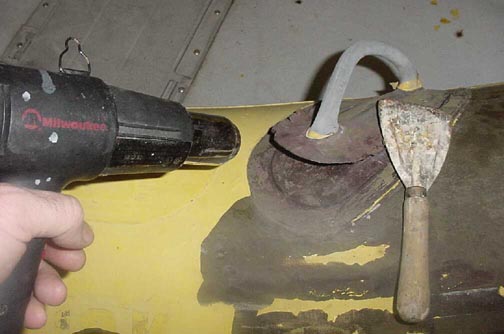 Use a heat gun or hairdryer to melt glue and remove handle or old patches.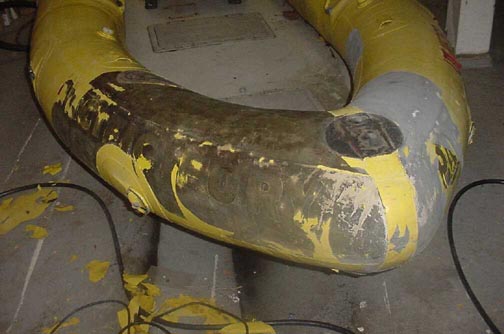 Old handle, Bow ring and some of the old paint removed ( what a struggle).
Okay, I admit we were worried - Before I can restore this boat I have to get all the old coating off- if I don't it will only be a strong as the old coating - even if it was a good coating it would still have to come off because whoever did it put it on when the humidity was about 100% - in the places where you can peel it off you can see little bubbles of moisture between the coating and the hypalon!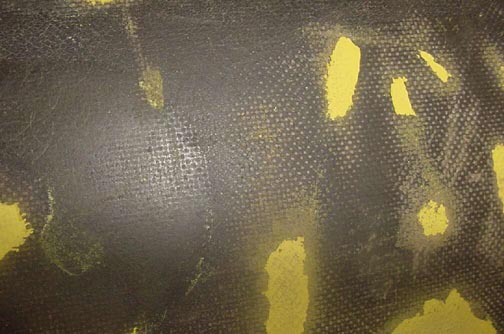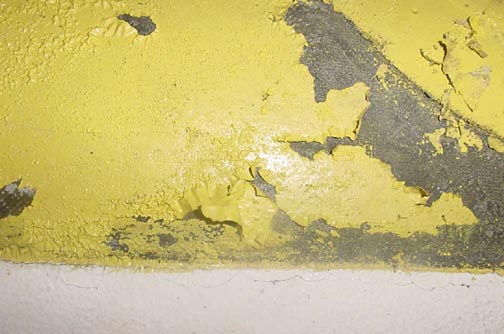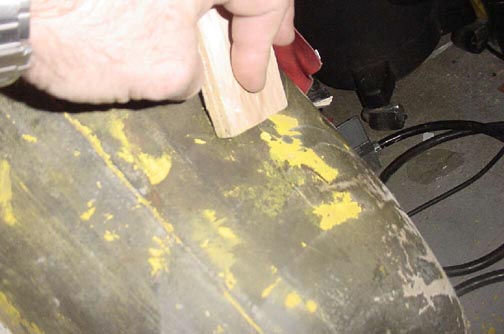 Scrape off with wood block. First Get all that old junk off at least one pontoon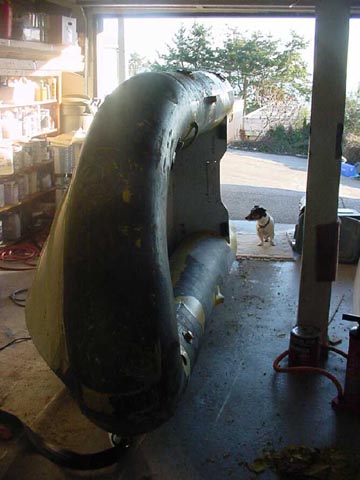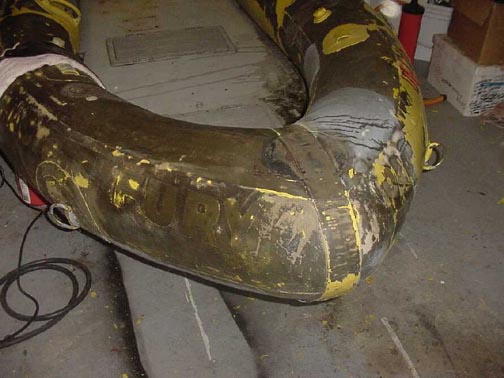 Getting the old one part paint off is very tedious but not that hard. This type of one part system sold for restoring inflatables will work
if applied to the right type of boat under the right conditions. It will not however rebuild the hypalon coating like our paint and it lacks the seal coat which differentiates our paint from other products.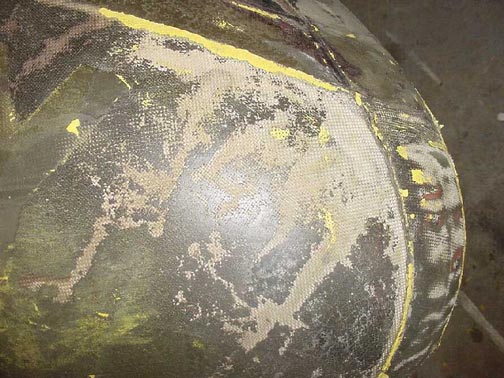 I lightly rough off the area with a fine 200 grit sandpaper or 3m pad then clean the area with acetone before applying a seal coat. I thin the basecoat 10-15% and apply a thin coat to the areas where fabric is showing through. I'll build up the hypalon coating slowly until it is even.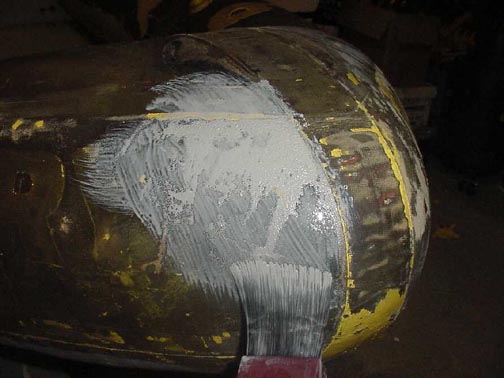 The basecoat sinks into the bare fabric and bonds the thread bare areas. I'll apply two or three thin coats then lightly sand and reapply another coat. This is only necessary when the damage is this extensive and you want a really good job.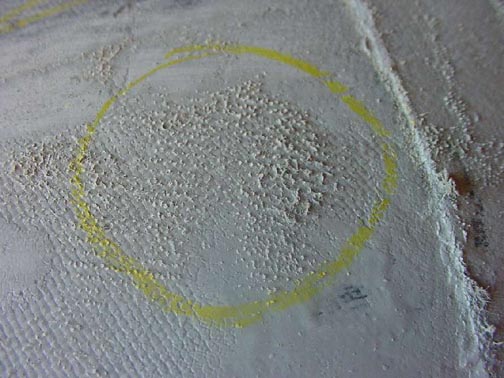 After the basecoat dries the sticking up bits can be sanded off.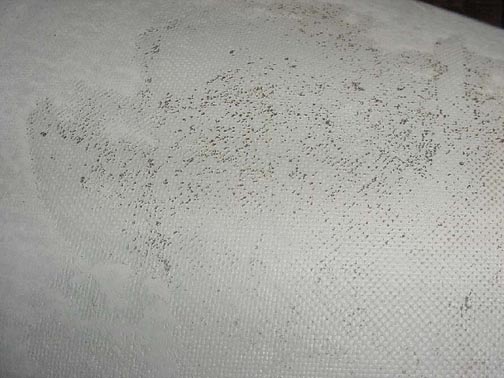 The plan was to do half the boat and leave the other half unfinished to show the contrast. It was a good plan but too hard so from here on I am just going to finish the project.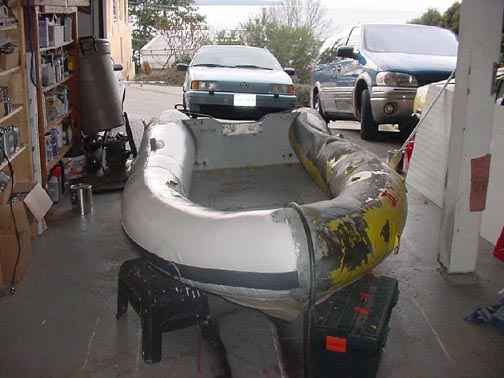 Good comparison from old to new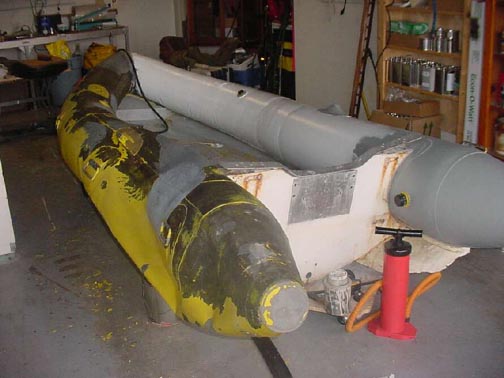 Good comparison from old to new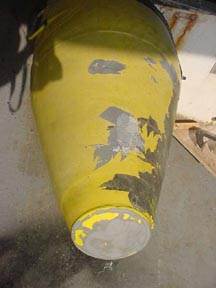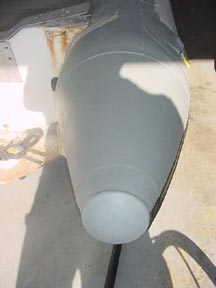 Before and after - cone ends of inflatable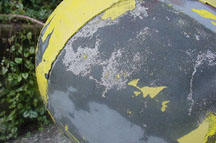 Bow area before and after using SRC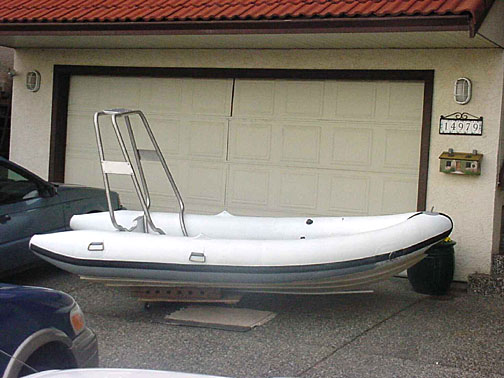 Incredible restoration results - an old boat from rags to riches.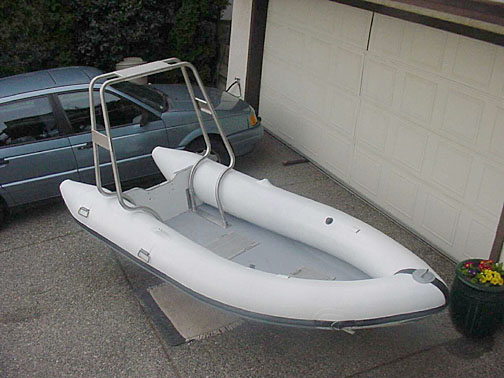 A beautiful finish! - can you believe before and after?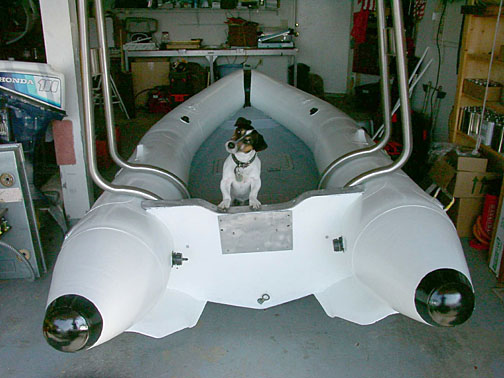 Finished and looking great! Now it's your turn to make your inflatable boat look awesome!
View more restoration projects in the left-side menu.
Restore Your Old Inflatable Boat. Renew your old, faded, sticky, deteriorating inflatable boat with this proven synthetic rubber coating. Great for Hypalon and PVC boats of all makes and models.
Our paint can renew and protect your inflatable by adding a layer of strong, UV resistant synthetic rubber that bonds directly with your existing surface - PVC or Hypalon.
Our paint done wonders on Avon, Bombard, Caribe, Quicksilver, Zodiac, and many other inflatables. Add years of pleasure to your investment with Tuff-coat