Why should you use Tuff-coat paint on your boat?
Thousands of restored inflatables and happy customers - a dependable and successful product.
Easy to apply - clean the boat, brush on basecoat and topcoat in stages, let dry and cure, and go boating!
Restores your boat - restores old, faded, sticky inflatable boats to looking renewed with enhanced protection and appearance.
Applicable for Hypalon and PVC - using slightly different application procedures, it's great for both types of inflatable fabrics.
Unlike other coatings - it has a basecoat and topcoat for superior adhesion to the fabric and increased protection, durability and an overall better appearance over other 1-part coatings.
Long lasting - boats covered in tuff-coat for years show no signs of deterioration or bad affects.
Fixes pinhole leaks - tuffcoat fixes pinholes in floors, covers chafed areas, covers worn, exposed fabric and old patches.
Wide color selection - gray, white, red, orange and black. Custom colors available on bulk orders.
Each "Pontoon Kit"- covers the respective inflatable boat pontoons only - not including the outer floor, in the color specified.
Each "Pontoon & Floor Kit" - covers the respective inflatable boat length and outer floor (the side of the floor that is in the water), in the color specified.
For larger boats,

contact us directly

.
Online ordering here - using our secure e-commerce shopping cart system.
Shipping - usually 7-12 business days subject to location.
Have questions?

Contact us now to learn more

.
Should I restore or replace my inflatable boat?
It's a common question we get asked. Repairing a leaking inflatable boat involves patching – using a patch kit and glue. Restoring is refinishing the inflatable fabric (usually hypalon or PVC). The confusion often arises because the restoring the fabric also solves the air leaks caused by the tiny pinholes in the fabric. We see this damage in tubes that have suffered wear and tear OR by extreme UV damage.
Best to think about REPAIRing when you have a major leak from a single source (hole, tear, seam-rip, valve stem, old patch, etc). Best to think about RESTORing when you have fabric wear/tear, UV damage, etc.
Final note. Repair major leaks first before you begin restoring your inflatable boat.
As always, the only proven inflatable boat restoration system is available from Inflatableboatpaint.com.
Is my Boat PVC or Hypalon Fabric?
For the novice it is not obvious at first. But with a few tips you can become quite good at making the distinction. Here is a good attempt to answer this.
Hypalon
- Seams on hypalon boats are glued. They appear much flatter in profile than PVC boats. The seams are simply overlapped and glued. Check around the seams and you will most likely see traces of excess glue that has seeped out. Hypalon boat manufacturers use a 'contact cement' type of glue in their seams. PVCs are not glued.
PVC
- Seams on PVC boats are heat welded. They are 'thicker' in profile than Hypalon boats. Often the seams are covered with a strip of material which makes it difficult to see the heat welded seam. But look around to other areas of the boat and you will most likely identify the heat welded seams. UV damage on PVC fabric appears brownish and often sticky to the touch.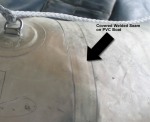 This is a PVC Seam
Testing
Find a small area on the boat that is hidden from view and apply a small amount of Acetone or Xylene on a rag and rub the test area. If area becomes sticky, if the top color rubs or runs, then the material is most likely PVC.
Manufacturer
If your chandlery or marina cannot identify the material, search the web for the boat manufacturers site. They will often carry technical specs that identify the material used to manufacture your boat.
Restoring my Boat - How tdo I get started?
You are anxious to restore your inflatable boat with Tuff-Coat but the most important step in achieving excellent results is CLEANING! Like any other 'painting' project, preparing and cleaning the surface to be painted is absolutely vital. If you decide to breeze quickly through this first step your results may not be achieved.
You must remove all dirt, oils, grease, waxes and grime. A power washer (careful not to blast new holes!) or warm soapy water is a good start. UV stickiness, grease, oils and waxes can be removed with a cloth dampened with Xylene (please wear gloves and mask in a well ventilated area). Finally a light sanding of the material surface will help smooth out any bumps and unevenness – for PVC boats this will rough up the surface to help create a 'mechanical' bond for the Tuff-Coat Basecoat.
So what is the first vital step? Put your Tuff-Coat cans on the shelf and get busy cleaning your boat. You will not regret it!
Cleaning Rubrails
I was recently asked by an inflatable boat owner how to clean the rub rails on his inflatable boat. Often in a restoration project, the rub rails, which protect the boat pontoons from abrasion, look as tired and worn out as the boat material. Tuff-Coat boat paint is NOT to be applied to these rub rail areas. The material is usually made from a high impact rubber or plastic composite and unlike Hypalon or PVC, the Tuff paint will not bond to rub rail material. In extreme cases, if the rub rail is severely damaged, you may be looking at a costly repair – by a certified repair shop. But usually a very simple cleaning trick is all that is necessary to 'restore' life to the rub rails. Simply apply a small amount of Xylene to a rag, and with a little elbow grease, you can rub the rub rail back to a lustre, that actually looks very decent. Make sure you do not use too much Xylene and that you do not abrade the rub rail material with too much aggressive rub/friction action. You will find a little will do just fine.
If you can paint, you can use Tuff Coat
In order to restore your inflatable boat, you don't have to know anything about a whole lot of stuff, except how to paint. Applying Tuff Coat is that simple. Of course, you have to prepare your surface first, making sure it's clean. But that's no big deal. Using Tuff-Coat, almost anyone can take a worn inflatable hypalon boat and make it look like new again. Read our customer testimonials to learn how some have saved their boat and their money.
Tuff Coat can save you thousands of dollars!
Tuff Coat can restore virtually any kind of damage your hypalon inflatable boat may have suffered. Now you may think that a product that unique, and that good, must be very expensive. But guess what…Tuff Coat costs you a fraction of what it would cost to buy a new inflatable boat. Sure, you could go out and buy one of those great new Zodiac inflatable boats, or Bombard tenders, or Avon RIBs, but you don't want to take out a bank loan, or go into debt, just to enjoy your life. Enjoying life shouldn't be expensive. And it doesn't have to be!
Is it easy to use? Will I save money?
Simply paint Tuff-coat basecoat over your existing material to restore the hypalon or pvc , then apply the topcoat over the basecoat to add additional protection as well as a beautiful finish. The coating applies directly on and bonds with your existing material, fixes pinhole leaks, covers exposed and worn fabric and protects from harmful UV damage. Renew your old deteriorating inflatable into a new looking rugged air tight boat and save thousands of dollars.
Tuffcoat has done wonders on Zodiac, Avon, Bombard, Caribe, Quicksilver and dozens of other inflatable boat brands and models. Add years of pleasure to your investment with SRC and save money.
Topcoat is available in silver-gray, cloud white, gloss red, gloss black and orange. Custom colors available on bulk orders.